Mark Webber says Red Bull cannot just keep relying on its race pace and that progress must be made to lift its qualifying form.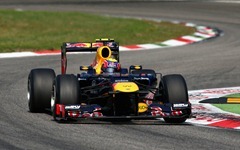 Although the RB8 has proved to be one the fastest cars on Sundays, its chances of battling for victory have been compromised by its inability to get the most out of its tires on Saturday. At Monza, Webber failed to make it out of Q2 and Sebastian Vettel was downbeat about his chances of moving forward from fifth place on the grid.
That form, just 12 months after Red Bull dominated the Italian Grand Prix, has come as a surprise to Webber, and says his team we need to react.
"In general we've seen seventh with me in Spa, sixth [fastest] for Seb here is the maximum that the car can do on Saturday," he explained. "We need to improve qualifying, we know that. Everybody is asking, 'What is the problem?' Well, if we knew what the problem was we would fix it.

"Last year, and in the previous years, it was a big part of our armory and, at the moment, we need to improve on it clearly because there is no point us having strong Sundays when we are always recovering.

"We know that as a team. We are working hard and we are still going very, very well in both championships. But we know we have got work to do. That's what we have got to do."
Webber has executed great charges through the field before this season – like in Valencia where he came from 17th on the grid to finish fourth – and he is not dismissing a repeat this time out.
"Let's hope so," he said. "I'm looking forward to the race but I am not looking forward to the formation lap and seeing how many cars are in front of me.

"That annoys me but, in the end, that's the way it is and it's an opportunity for us to redeem something and go from there. We know there are lots of people that don't have smooth days these days and… like Fernando [Alonso] as well, and Jenson [Button's] had plenty of tough ones and Lewis [Hamilton] has had a few. That's just the way it is at the moment, so you have got to keep optimism."
Info: Racer.com, Image: Red Bull Content Pool
Find us on Facebook and Twitter for all the latest updates for the F1 2012 season