Dr Helmut Marko has denied reports Felipe Nasr is in the running to replace the Red Bull-bound Daniel Ricciardo at Toro Rosso next year.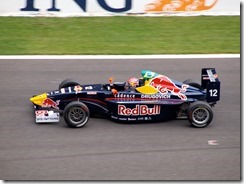 It was reported recently that GP2 frontrunner Nasr, a 21-year-old Brazilian, was knocking on the door of the second Red Bull-owned team with money from Banco do Brasil and Sky Brasil. But when asked directly if Nasr is in the running, Red Bull's Marko answered emphatically: "No. "I know him," the Austrian told Brazil's O Estado de S.Paulo newspaper. "Despite being in the championship for a while he has not won a race."
Marko's comments leave the Red Bull-sponsored youngster Antonio Felix da Costa back at the front of the grid to replace Ricciardo. "Costa impressed me last year in his debut in the (Renault) world series," said Marko, "winning several races. But this year he is not going so well. "Let's see, we are not in a hurry, there are still many races left in competitions where there are drivers in our junior programme."
He said Ricciardo's eventual successor will be "someone from the junior programme and not just with the potential as a formula one driver, but to fight for victories and titles. "That's quite a different thing," said Marko. Next in line after da Costa is the teenage Spaniard Carlos Sainz jr. But Toro Rosso team boss Franz Tost on Monday said the 19-year-old is "talented, but young drivers need to be given time".
He told EFE news agency that the process to select Ricciardo's successor "has begun and of course Red Bull is involved in the process". "We have plenty of time and no need to decide anything in the next two or three weeks," added Tost. "We have until the start of next season. We'll see what we do. "We have some young drivers with extraordinary talent. One of them is Carlos Sainz jr but we also have (Daniil) Kvyat. And Felix da Costa. "There are many races left (in 2013). Da Costa has six races. Let's let the drivers finish their seasons. Then we will see if we choose one of them or someone different."
Tost said the young age of Russian Kvyat, who races in the GP3 series, and Sainz is a factor playing against them. "I think usually formula one drivers should be at least 20 or 21. But there are many other factors," he explained. Definitely not too young is Felipe Massa, the highly experienced Brazilian driver who could be looking for a 2014 seat after eight years with Ferrari. But Marko told Brazil's Totalrace: "Toro Rosso is a team for young people, and if I know enough about Felipe, I know he is no longer young."
Info: GMM, Image: Red Bull