Not wanting to fall back to much behind HRT it seems that Marussia has speed up the things a little bit and they put on tract the new MR01 today at Silverstone, and as it was said earlier they don't have a step nose, on the contrary is more like an Indycar nose.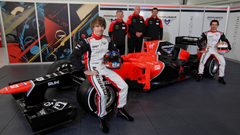 The MR01, our contender for the 2012 season, has made its on-track debut. We're running our new car for the first time today at Silverstone in the UK for a promotional event ahead of the season-opening Australian Grand Prix in Melbourne next weekend.
  The MR01 is the product of a ground-up re-evaluation of the way we go about designing our racing cars. As such, the car is almost entirely 'new' with very few carryover components from last year's MVR-02. This presented our design team, led by Technical Consultant Pat Symonds, with the challenge of going back to basics to produce a solid mechanical package, whilst maintaining an eye towards achieving the incremental performance steps required to move the team forward.
  Design Philosophy
The key design priorities were to address previous aerodynamic deficiencies and, mechanically, achieve greater weight saving. At the same time a lot of the detail of the car has been refined and the design team have been a little more adventurous than before, stepping closer to the engineering boundaries. The car can best be described as a significant evolution of its predecessors.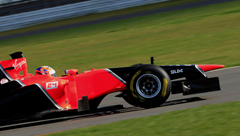 Driver Line-Up
Timo Glock commences his third season with us, providing the all-important element of continuity required to keep moving the package forward. Timo is joined by Frenchman Charles Pic, who embarks on his rookie year in Formula One, having made the step up from GP2. Despite his 22 years of age, Charles has been racing in single-seater formulae for six years and has won races at every level.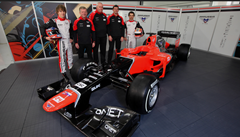 John Booth, Team Principal, Marussia F1 Team:
"We are very pleased to be running the new MR01 for the first time this morning. It has been a long and frustrating wait for everyone in the team but we can now get back on track – literally – and start working towards the first race of the season in Australia next weekend. Today is the first of two promotional events, so while the drivers will be able to get a feel for the car, they won't be able to draw any real conclusions until we start running in anger in Melbourne. Nevertheless, this is an important day for us and we'll enjoy every minute on track with the new car."
  Timo Glock and Charles Pic will each enjoy some track time with the car over the next two days, albeit with the car running on demonstration tyres as opposed to the Pirelli P-Zero 2012 season performance tyres.
Info & Images: © Marussia F1 Team