Felipe Massa was at top of the timesheets on the penultimate day of pre-season testing while Red Bull struggled to build on its promising run on Friday.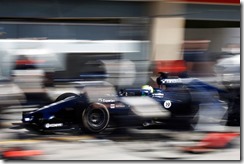 Massa stopped the clock at 1:37.224 to put himself at the top of the time sheets over lunch, but once again it was the absence of some cars that drew more interest. It took two and half hours for Sebastian Vettel's RB10 to emerge from the Red Bull garage, but when he did he only made it as far as Turn Four before grinding to a halt. The team tried sending him out for a second time in the final hour before lunch, but the Red Bull only got as far as the end of the pit lane before stopping, with Vettel lending a hand as marshals pushed it back in the direction of the garage.
Red Bull was not alone in making a slow start to the day. Mercedes opted to make a precautionary engine change first thing, which took the best part of three hours and limited Nico Rosberg to just 22 laps by lunch. However, he wasted no time in setting a respectable lap time, with a 1:38.557 securing him third place in the standings behind Nico Hulkenberg in the Force India. Kimi Raikkonen also struggled for mileage and only managed nine laps in the Ferrari on his final morning in the car.
Romain Grosjean also had a slow start to the day on his return to the Lotus E22's cockpit. He got on track after two hours and by the end of the morning had completed 14 laps with the slowest timed lap of all. But there were positive signs for engine supplier Renault, as Caterham put its power unit through its first attempt at a race simulation, although it appeared to end just short as Jules Bianchi's Marussia stopped at Turn One and caused a red flag ten minutes before the lunch break.
Adrian Sutil's morning lasted for one installation lap before a lick of flame came from the rear of his car on his return to the pits. The local marshals were quick to react with fire extinguishers and doused the flames with foam before the Sauber mechanics arrived on the scene to push the car back to the garage.
After hitting the track first at 9:00, McLaren and Kevin Magnussen had an issue during the morning which kept him in the garage. He made it back out before the end and completed 24 laps in total.
But the cars were not alone in having problems, as the main advertising hoarding over the pit straight started to flap in the wind. Circuit workers arrived on track in the lunch break to remove it before the afternoon session.
Info: ESPN Sports Media Ltd. Image: Williams