No one in the paddock doubts that Mercedes is significantly ahead of the game as the 2014 season opener looms.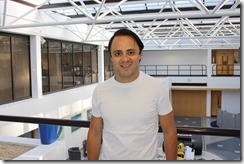 But when told he is an absolute favourite, works driver Lewis Hamilton clearly does not want the label to stick, furrowing his brow as he answered: "Why do you believe that?" At the very least, the Briton admits the German squad has produced the very best new V6 engine, compared to rival suppliers Ferrari and troubled Renault. "You have Williams, who look like they could be a competitive team, and you have Force India who could be much further ahead," Hamilton is quoted by F1's official website. "Maybe Felipe Massa will take the Williams to the front!" Niki Lauda, the Mercedes team chairman, confirms that estimation of the pecking order, with Ferrari "a little bit behind" and Renault "far away" from the pace.
Ferrari chief Stefano Domenicali also thinks the Mercedes-powered works team and its customer Williams are "better prepared" than Ferrari for Melbourne. "I see us behind those two," the Italian is quoted by Germany's Auto Motor und Sport, "but our car has a lot of development potential." Former F1 driver Gerhard Berger, watching trackside in Bahrain, hailed the progress made over the winter by Williams. "They have stopped the downward trend," he said. "They made the right decision to go to the Mercedes engine and with Massa and (Valtteri) Bottas they have a good mix of experience and youth, and a strong technical guy at the top with Pat Symonds. "Their performance in testing is no accident," Berger insisted.
However, he thinks Williams' superiority might not last. "In the long term I see McLaren and Ferrari more in the challenging role to Mercedes," said Berger. But what about Red Bull, the reigning champions, and the similarly Renault-powered Lotus? "You cannot rule out teams like that," Williams' Massa is quoted by Totalrace, "because when they solve their problems, they know how to win races. "It's nice to think Red Bull is going to be fighting with Caterham, but forget it," said the Brazilian. "They have a problem to solve and when they solve it, they will be there." At the moment, however, it is Massa who is 'there' as a genuine podium favourite in Melbourne. "As of now, our biggest enemy is from our own (Mercedes-powered) house," said Lauda. Massa admitted: "I'm really happy with how the tests have been with our speed and reliability, but I see the Mercedes works team as slightly ahead of us."
Info: GMM, Image: Williams F1