Felipe Massa has vowed to do all he can to help his teammate Fernando Alonso to win the Formula 1 World Championship this year.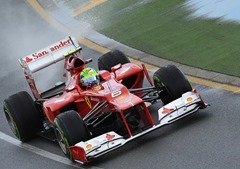 With his victory in the German Grand Prix Alonso has extended his championship lead to 34 points, this is his third win of the season, but Mark Webber, Sebastian Vettel and Lewis Hamilton remain firmly in contention for the drivers' title with just 62 points covering the top five in the standings.
With 25 points on offer for a race victory the championship can change race-by-race and Massa knows he will have a big role to play if his Ferrari team-mate is to win the drivers' championship.
"Sure, Fernando needs me. In a championship like this, it is very important to have both cars scoring points," Massa explained.

"This year it is so competitive between many drivers, many teams, so you know how important every result is. It is a championship that maybe one point can be enough to win or lose.

"Every race will be important [in the championship], from now until the last one. We need to keep working like we were doing in the last few races and improving the car, and then Fernando has even more chance to fight until the last race."
Felipe Massa had a hard weekend in Hockenheim as he struggled in qualifying and then in the race to bring the car home in 12th position but he remains confident that he can still achieve good results for Ferrari.
The Brazilian's future at Ferrari has been the subject of much debate in recent weeks but he feels he is driving better than ever and he is optimistic for the remainder of the season.
"I feel very good now. I would say after Monaco I feel very automatic driving the car, very competitive, and that is the most important thing," he added.

"I was not feeling very good in the beginning of the season, but after the first races many things changed.

"It is easy [to deal with a bad race] when you have the pace. It is much harder if you are nowhere. But here we had a crash at the start and that was it. There was nothing wrong with the pace."
Source: Setanta, Image: Scuderia Ferrari
Find us on Facebook and Twitter for all the latest updates for the F1 2012 season