Felipe Massa is likely to keep his seat at Ferrari beyond the end of his expiring 2013 contract.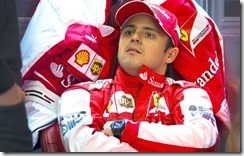 That is the news of the famous Italian team's boss Stefano Domenicali, following speculation about 32-year-old Brazilian Massa's future in the wake of three high-speed crashes in Monaco and Canada.
Domenicali, however, told O Estado de S.Paulo newspaper that Massa's return to speed in recent months is the real key to his future. "If Felipe keeps going as he has been, I do not see any problem for the future," he said, following speculation Ferrari may be eyeing Mercedes' Nico Rosberg. "As far as our drivers go for 2014, I'm calm," Domenicali added.
Told, however, that driver choice for 2014 could be more important than ever as F1 prepares for the radical new engine rules, he laughed: "This (the driver lineup) is one of the easiest decisions to be taken for next season. "What is complex is the technical challenge we face with so many changes. "We will arrive early next year with so many unknowns and only three tests before the start of the season, so there's no guarantee we will understand everything. "This is a theme for deep reflections. About the drivers, everybody knows that Fernando (Alonso) has a long-term contract and Felipe, despite all that is said, is still with us."
Asked to say specifically that Massa will still be with Ferrari in 2014, Domenicali obliged: "Absolutely."
Meanwhile, following his third-placed qualifying effort in Montreal, it appears the future of Williams rookie Valtteri Bottas is also safe for now. "I am convinced," team deputy principal Claire Williams is quoted by Kolner Express newspaper, "that we have a future world champion on our hands."
Info: GMM, Image: Ferrari