Marussia has named McLaren protege Kevin Magnussen as a potential race driver for 2014.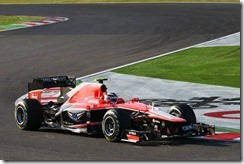 It is already known that the Ferrari-linked French rookie Jules Bianchi is staying with the team beyond this season. But a few days ago, his 2013 teammate Max Chilton admitted his own future is not yet secure. "I feel I'm showing I deserve a seat for next year," the Briton, who brings substantial backing to Marussia, is quoted by the Independent newspaper. "I admit, at times, I haven't got things right, like at Silverstone and Germany, but on the whole it has been pretty good, and since the August break especially I couldn't have done much more," Chilton insisted.
Nonetheless, Marussia has admitted it is on the market. Likely 2013 Formula Renault 3.5 champion Magnussen, the son of ex-F1 driver and Dane Jan Magnussen, is a protege of the McLaren team. McLaren, who it is believed has offered to forgive Force India's reported EUR 8 million debt in exchange for a 2014 seat for Magnussen, also has a technical partnership in place with Marussia. "Certainly Kevin has impressed in the tests he has done, and as a team that has brought young drivers into formula one, he is in the frame," Marussia sporting director Graeme Lowdon is quoted by Sky. But Lowdon said Chilton is also in the frame, and that Marussia is in "no rush" to make its decision.
Over at Force India, reports have emerged that Adrian Sutil expects to keep his seat beyond 2013. Paul di Resta's future is far less secure. His manager Richard Goddard on Thursday admitted the Scot is at risk of being pushed out by a pay-driver. "Force India have always been very fair in that they have tended to put outright talent in the car, and they haven't looked to a driver to bring in income, which is great," he told Press Association. "That's because they are well funded by a couple of individuals and corporations who are able to do that, and hopefully they will carry on doing that."
Goddard, who also manages Jenson Button, admitted 27-year-old di Resta's situation has not been helped by his recent run of poor form. "It's difficult to determine," he said, "because this last half of the season he has been adversely affected by the tyres. "He hasn't produced the results he would want to produce, but overall it is the team under-delivering on what it should have delivered."
Info: GMM, Image: Marussia