Red Bull has advised McLaren to focus on upping its game rather than taking the reigning world champions to court.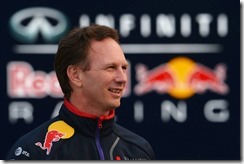 A bitter spat has broken out between the British-based teams over a highly-rated aerodynamicist called Dan Fallows, who was recently due to start work at McLaren. But Fallows ultimately decided to return to Red Bull with a promotion, triggering a furious rebuke by McLaren supremo Ron Dennis. In Shanghai, Dennis accused Red Bull of having "induced" Fallows to breach his contract.
But the latest paddock rumour is that Fallows originally decided to leave Red Bull because he was seeking a more senior position, having worked as Peter Prodromou's 'deputy' for the past several years. McLaren then subsequently also signed Prodromou, sparking Fallows' change of heart. It has also been claimed that Fallows signed the deal expecting the now ousted Martin Whitmarsh – not Dennis – to be his boss. "With the changes that happened at McLaren he decided he didn't want to join," Red Bull team boss Christian Horner says.
Horner denies Dennis' claim that Red Bull "induced" Fallows to break the deal. "He approached us to see if there was a situation still open, so it was 100 per cent his choice," he said. Horner also took the opportunity to advise McLaren – whose Jenson Button and Kevin Magnussen finished out of the points in China – to take the focus off Fallows and put it back on upping its game. "We have to be careful this is not detracting from their focus, which should be a little closer to home," he said. "Obviously it's easy for McLaren to be drawing focus away from their bigger issues — it's obvious why they are looking for aerodynamicists."