After a strong performance in Canada the Woking team is getting ready for Spain who is the only country to feature twice on the 2012 world championship calendar. Six weeks after the Spanish Grand Prix in Barcelona, it's the turn of Valencia to host the European Grand Prix.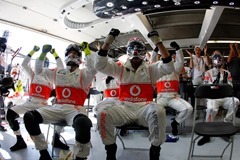 The Valencia street circuit has been home to the European Grand Prix since 2008, using public roads around the city's America's Cup marina. Car set-up is a delicate balance between low-speed grip and traction through the track's tortuous 25 corners, while maintaining good straight-line speed. The cars exceed 300km/h four times on the lap, and on each occasion they have to slow for a first or second gear corner. As a result, brake wear needs to be monitored closely.
Pirelli is taking its Medium and Soft compound tyres to Valencia, a combination that was last used at the Bahrain Grand Prix. In the heat of the desert, tyre wear proved critical back in April and similarly high ambient and track temperatures are expected in Spain as well. McLaren has won the European Grand Prix four times, but never at Valencia. Lewis Hamilton has finished second there on three occasions (2008, '09 and '10).
Let's see what key members of the McLaren Mercedes team have to say before Valencia:
Jenson Button: "Canada was just one of those weekends where things didn't come together – after some difficult races, I really needed the track time on Friday to find a clearer direction with the set-up, and, unfortunately, that didn't happen due to a number of technical issues. "And I think that set the tone for the rest of the weekend: we lacked the data we needed to tackle the race and we struggled. Still, there were important lessons to be learned from those issues, and we addressed everything back at MTC once we'd returned from Canada in a bid to get a clearer direction for Valencia next weekend. A day like that is enormously productive and I think we covered a lot of ground.

"The last few races haven't delivered the results I'd like, but there are still 13 races to go. We've had seven different winners and no clear championship leader has emerged, so I'll be looking to get a decent result under my belt next weekend in order to get my title bid back on track.

"I know just how strong Vodafone McLaren Mercedes can be. Valencia is a track I really enjoy; I've already won on a street circuit this year so I'm definitely optimistic about having a great weekend and picking up the momentum again in the title fight."
Lewis Hamilton:  "My win in Montreal was obviously an extremely satisfying moment for me – but, actually, it does very little to alter things in the world championship. "Firstly, while it's always pleasing to be leading the championship, I'm only two points ahead of Fernando [Alonso] – which is nothing, particularly when there are a handful of really strong drivers all separated by a couple of points, so there's still everything to play for.

"Secondly, the intensity of this year's championship means there's so little breathing space – we may have won in Canada, but there's an enormous amount of pressure to keep racking up good results at every grand prix. I think that consistency, rather than individual strong results, will be the key to winning this world championship, so we need to back it up in Valencia with another strong result.

"The circuit is quite tough – it's a very technical track, with lots of slow- to medium-speed corners that require good traction and set-up as well as lots of precision. Towards the end of the lap, the track gathers speed and opens up, the sweepers leading to the pits are actually incredibly fast, and they're all about correct placement of the car to ensure you're well placed for the following corner. That's probably the most satisfying part of the lap.

"People are always asking me to predict what will happen at the next race and I always tell them it's really difficult to make an accurate prediction – but I'll be heading to Valencia feeling super-motivated to get another strong result and maintain my momentum before we head into Silverstone and the Santander British Grand Prix."
Info & Images: Vodafone McLaren Mercedes