Lewis Hamilton claims McLaren offered him more money than Mercedes for 2013.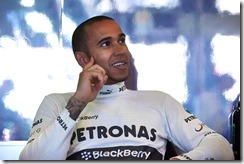 Ultimately, the 2008 world champion opted to switch camps, with most in the paddock believing he wanted to fly the roost, make more money and enjoy a lighter off-track load. Interestingly, however, Hamilton has told the German newsmagazine Focus that "McLaren's offer (for 2013) was a bit more lucrative" than Mercedes'. "I would have earned more there (at McLaren)," he insisted.
The German news agency SID estimates Hamilton's new Mercedes retainer at EUR 75 million over three years. Money aside, Hamilton claims there were also sporting reasons for the switch. Indeed, given McLaren's calamitous start with the flawed MP4-28, his choice now appears inspired. "At McLaren it was usually that I would win four or five races (per season) but never the title at the end. "This gave me the feeling that, for the long term, I'd rather go somewhere else," said the 28-year-old.
Bernie Ecclestone told F1 business journalist Christian Sylt last week that McLaren's relationship with Hamilton had soured. "(McLaren supremo) Ron (Dennis) said that he could have kept Lewis if he had wanted to but he didn't want to," the F1 chief executive is quoted by Autoweek. "Lewis told me that he would have rather taken a year off (than stay at McLaren). In fairness to Lewis, he didn't leave McLaren over money," Ecclestone added. "I don't know what it was because of but it wasn't to do with money."
Info: GMM, Image: Mercedes GP