Martin Whitmarsh, the McLaren team principal believes the move to more environmentally friendly engines for 2014 is a vital step for Formula 1, despite the increased costs it means for those involved in the sport.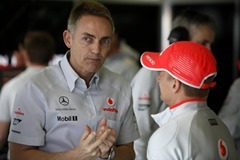 Engine manufacturers are currently locked into development programs for the new 1.6-liter turbocharged V6 power units, with its costs set to be passed on to its customer teams at the start of the new engine formula era.
Although that ramp-up of expenses has been the cause of concern from some teams, who have questioned whether or not all squads will be able to afford the estimated $25 million-per-year power train bills, Whitmarsh thinks F1 is plotting the right path.
"We have to be respectful of the fact that, on the one hand, the sport is saying to the engine manufacturers; we want new technologies and we want an entirely new engine – as that means undoubtedly they are having to spend a lot of money to do that," Whitmarsh said. "But that is the challenge. If you introduce rule changes – all for good reasons to make the sport socially relevant and to make the technologies appropriate – there will inevitably be a cost of so doing. And that is something we have to be balanced about and very cautious about.

"If I was one of the teams further down the pitlane, I would like my engines for free and I would like my tires for free – but, at the same time, hopefully the sport benefits from evolution. No sport, and especially no technical sport such as ours, cannot change and not reflect what people perceive."
Whitmarsh believes that if F1 stuck long term to the current V8 engines, it could leave itself open to criticism of being insensitive to environmental concerns.
"If F1 is perceived as a gas-guzzling sport that has no regard to the technologies that are very relevant to automotive companies, then we really promote the wrong image," he said. "F1 should be about efficiency.

"One of the great things about the RRA is that it creates a lot of challenge. And rather than just say we want more resource to make the car go quicker, we are now having to ask questions about how we get a bigger bang for the buck, and how we work more efficiently.

"People are talking about the efficient use of resources. No sport should be at liberty to spend almost unlimited amounts of money and resource with no focus on efficiency."
Info: Autosport.com