Sam Michael has hit back at claims heads should be rolling at McLaren as the team endures one of the worst starts to a championship campaign in its history.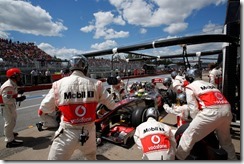 Having erred with a radical new car for the final season of V8 regulations this year, the great Woking based team – lagging even behind the similarly-powered Force India – can no longer count itself among the 'big four' at present.
But Australian Michael, who left Williams in 2011 amid that team's worst ever title campaign, said McLaren is taking a cautious approach to the question of sackings. "To start with you have to be very careful," he told British broadcaster Sky. "First of all you could sack the wrong people and secondly the people who are responsible for this car are part of this company and they are committed to it. "They are very good engineers and designers who have produced very good cars in the past and they are going to be the best people to fix this car and produce another very good car in the future," added Michael.
The fact that McLaren needs to 'fix' the flawed MP4-28 is crucial, as there have been calls for the team to simply abandon 2013 and focus on the huge challenge of 2014. Lead driver Jenson Button insists: "Although the 2014 cars will be different, first we need to understand the current car in order to take a step forward next year. "We also want to win races this year," he told Germany's Auto Motor und Sport, before competing in an ironman event in Berlin. "That goes for everyone who works at McLaren."
Sporting director Sam Michael also said it is simplistic to suggest McLaren should simply 'write off' 2013 in order to focus on a fresh start. "I don't think you ever get to a point where you write it off — we will always be pushing to improve the car and get good results right to the end," said the 42-year-old. "In terms of bringing development parts to the car, the August (factory) shutdown is going to be a natural point for most teams to start ramping down this year and putting everything into 2014."
Info: GMM, Image: McLaren