McLaren is still seeking answers as to exactly what has gone wrong with its new car, as it continues to work on improving the MP4-28's pace.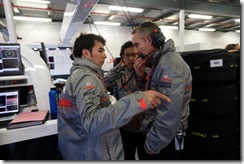 The Woking-based outfit is throwing everything it has on understanding of why the car isn't performing, and is experimenting with parts in Malaysia this weekend.
Sporting director Sam Michael said that the team did not yet have a definitive explanation for what was causing its troubles, and it was eager not to rule out anything right now.
"To be honest, we are looking at all fronts at the moment," he said. "We have a pretty good understanding of where we think the issues are, and most of those are things that we should solve in design back at MTC [the McLaren Technology Centre].
"However, we are getting more and more confidence in knowing what we have to concentrate on by doing these track tests. I think at this point it is too early to pinpoint externally what that is exactly, even though we have reasonable confidence about what to work on. You have to stay open-minded because it normally comes through lots of sequences of different areas of gains."
Although the team remains convinced that developing the MP4-28 is the best way forward, a switch to an updated version of last years' MP4-27 has not been completely ruled out if matters do not improve. When asked about how feasible it would be to bring the 2012 car back to race action, Michael said: "At this point, our total focus is on 28A – working on that and getting it sorted ASAP.
"If you did have to bring the 4-27, last year's car, you still have a few technical issues to get over, such as the front wing regulations having changed. And there are a few little trivial details with the crash tests. They are not such a big issue, and obviously you have to look at stock [of spare parts].
"But our main focus now is on this car, and I would say that we will keep all our energies on the 28A – because the potential in this car, we still believe, is greater than the 27."
Although there are suggestions McLaren is pondering alternative options going forward, such as using a modified MP4-27, or creating a hybrid of the 2013 rear end with last year's front end to create what would be an MP4-28B, Michael does not think at the moment that such radical measures are needed.
"It will be development of this car, development of the 28," he said. "At this point in time, there is no plan for anything like that."
Info: Autosport.com, Image: McLaren