Formula One returns to Europe this weekend with the second race of the season to be held in Spain as the European Grand Prix is hosted by the city of Valencia.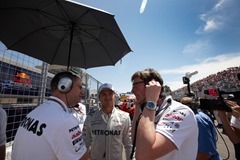 The waterside 5.419 km Valencia Street Circuit winds around the city's Juan Carlos I Marina, home of the America's Cup. Five 'normal' race overtakes in the 2011 race represented the year's second lowest total, with DRS enabling a 22 further passes. DRS can be used for 59.7% of the qualifying lap in Valencia – the third highest proportion after Montreal and Monza. At 252 metres, the pit lane length under speed control is even shorter than that in Monaco (301 metres).
"Our entire focus is now on the race in Valencia" says Michael. "I am sure that everybody's motivation is even stronger because the weekend in Canada didn't go as well as we had hoped. Our motto in the last few days has been to roll our sleeves up and focus on the job in hand; everybody in the team has taken that approach to heart, so we can travel to Valencia in an optimistic mood."
Nico always likes to visit Valencia: "It is a pretty cool city, the track is another street circuit but it's quite a unique one as it is quicker and has a more open feel than somewhere like Monaco or Singapore. The layout is also kind of like Montreal so it should be a circuit which suits our car."
Here is a short interview with Ross Brawn about the topsy-turvy Formula 1 2012 Season:
Source: Mercedes AMG