The German Grand Prix weekend got underway at Hockenheim today with Michael Schumacher and Nico Rosberg completing the first two practice session for MERCEDES AMG PETRONAS at one of the team's home races.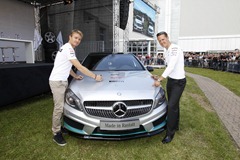 Michael and Nico completed a combined total of 89 laps in today's practice sessions while using all tyres brought in by Pirelli. On a downside note Nico will take a five-place grid penalty on Sunday race following a precautionary gearbox change.
Not typical Hockenheim conditions for the first day of the German Grand Prix and Mercedes looked ok as far as today's lap times can be judged, however they are certainly not a full reflection of the competitive order. Unfortunately, Michael had an off during the closing stages of the session, which is not ideal but better today than tomorrow or on race day. The mechanics will work hard this evening to repair his car. The forecast also predicts rain for tomorrow and a nice, sunny day on Sunday. It looks like what we had in Silverstone could be repeated in Hockenheim – two days of rain followed by sun, all the ingredients to transform German GP in very interesting race.
Nico Rosberg: "We learned a lot today as we were able to test in the different track conditions, and use the wet, intermediate and dry tyres. So I guess we are well prepared for whatever the weekend brings. Unfortunately we have to change my race gearbox here as a precaution after discovering an issue after Silverstone. So I will receive a five-place penalty which is a shame for our home race but I will push hard to gain a good result. As we have seen this season, a lot can happen in the race."
Michael Schumacher: "The way I ended the second session was obviously not part of the plan and I'm sorry that my mistake has given my guys even more work to do this evening. I simply slid off track because I lost a little concentration: we were talking on the radio and I was altering some settings at the same time. But that's all part of the game. Overall, the session went ok, even though we didn't do too much running in the first session because the conditions were a bit too inconsistent. I think that qualifying will probably be wet tomorrow, so today's weather was useful in that respect. Now we need to do more work on the computer to tease out the insights we weren't able to get from our track running."
Ross Brawn: "We had two very productive sessions here at Hockenheim today to start our home Grand Prix weekend. We had some new things to try on the car which we had the opportunity to try in the dry and the wet. The car seems reasonably well balanced but we will have a good look at all of the data tonight to see how we want to proceed tomorrow. Michael's incident on the wet track at the end was a little unfortunate but it didn't cost us any running time."
Source: Mercedes AMG Petronas
Find us on Facebook and Twitter for all the latest updates for the F1 2012 season