The fallout of Sunday's explosive clash between warring teammates Lewis Hamilton and Nico Rosberg is only just beginning to hit the ground.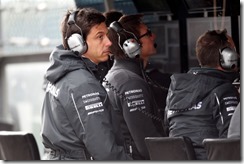 Although Kevin Magnussen was penalised by the stewards for his wheel-to-wheel behaviour at Spa, German Rosberg escaped even an FIA investigation after driving into the rear tyre of Hamilton's sister Mercedes. "The stewards' job is to make the fight for the title fair," Brazilian journalist Livio Oricchio wrote in Universo, "but in this case they inexplicably failed to act." Rosberg, booed in the podium and slammed by his bosses, refused to apologise. "A real champion would do this and say afterwards 'I screwed up'," 1997 world champion Jacques Villeneuve told the German newspaper Bild.
Boss Toto Wolff admitted the post-race meeting involving Rosberg and Hamilton had been particularly "heated". "Emotions have not cooled," he admitted to Austrian television ORF. "(The emotions are) very hot and very high. "In the heat of battle sometimes things are said that are a bit hard," added Wolff, giving a hint of the flavour of the late afternoon summit. "Please understand," Rosberg's media manager Georg Nolte said, "Nico only wants to discuss things internally."
Hamilton was much more publicly forthcoming. He even spoke about a pre-Belgian GP meeting on Thursday, during which Rosberg made clear "how angry he was" about the team orders shenanigans of Hungary. "I was thinking 'It's been three weeks you've been lingering?' He sat there and said how angry he was at Toto and Paddy (Lowe)," said Hamilton. "After that, and this, it's interesting," said the 2008 world champion. Hamilton then made the explosive revelation that, in the post-clash meeting late on Sunday, Rosberg admitted Sunday's incident had been "on purpose". "He (Rosberg) said he could have avoided it," Hamilton claimed. "He said 'I did it to prove a point'. "I was gobsmacked. You need to ask him what point he was trying to make."
Wolff, albeit obviously furious with Rosberg, said the suggestion the German crashed into Hamilton deliberately was "nonsense". But he confirmed: "Nico felt he needed to hold his line. He needed to make a point." The fact Rosberg's conscious actions resulted in contact might now attract the attention of the governing FIA, who have the power to open investigations even long after the fact. Team chairman Niki Lauda's blunt assessment was that the collision was "avoidable" — a conclusion that should in theory be punished by the stewards. "Keep the steering wheel to the left," the triple world champion added, "go a bit over the kerb and nothing happens. But he pulled to the right at the wrong moment." That is despite a spokesperson for the Paris federation as insisting that, as far as the FIA is concerned, "It's over".
But it's far from over for Mercedes. First, the Brackley based team could punish Rosberg. "Lewis said it's going to be a slap on the wrist and there is no consequence," Wolff said. "But today we have seen the limits of slaps on the wrists." But an even bigger consequence is the re-think in Mercedes' policy of letting the drivers race freely. "Unfortunately yes," Wolff admitted when asked if the team is thinking about altering that policy in light of what happened in Belgium. "We haven't decided that yet, we will in the next few days but I am extremely upset — I feel let down and the team has been let down. We have defined rules and we have broken those rules. "We are all fans and we owe it to everyone out there to let them race but today that philosophy has ended with Mercedes losing many valuable points and we don't want to end up in Abu Dhabi losing a title because we are race fans. "What's the point of great races and great fights if at the end we look like idiots? "We hate the words team orders," he added, "but that is now up for discussion. "We believed both of them understood but now this has happened and we need a new system," said Wolff. "This cannot – and will not – happen again."
Lauda has been the loudest voice arguing against team orders at Mercedes, and even he is now quoted by Auto Motor und Sport as saying: "I think we can keep this policy, but I can't promise anything. "Our policy is that our drivers know what they are doing, but a collision in the second lap shows that this is not the case."
Image: Mercedes GP