Lewis Hamilton says Mercedes is exactly where he had hoped it would be right now, after getting his first proper experience of the new W04.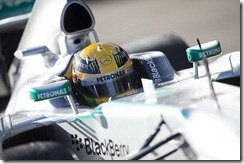 After his first day of action at Jerez on Tuesday was cut short by a crash caused by brake failure, Hamilton was finally able to put together a proper evaluation programme on Thursday.
And although Hamilton did not shy away from the fact that his team will need to improve the car's speed if it is to challenge at the front, he said that its performance was realistically the best he could hope for.
"I think we are at the level where we would have hoped to have been," he said, when asked by AUTOSPORT for his verdict on where the team was at right now. "I couldn't really have asked for more.
"The guys have done a great job to add downforce to the car, understand where they have been and take the car in the direction they want to go. Now they need direction.
"They need me and Nico to tell them where we can improve the car and which direction we need to go – is it front end that we need to improve?
"Is it rear end? Is it globally? Is it corner entry? Is it corner exit? All this kind of thing. So that is what we are working on."
Hamilton concedes that the Mercedes appears to be lacking downforce compared to what he was used to at McLaren, but he has faith that progress would be delivered over time.
"We have some work to do but it doesn't feel like it was a disaster," he said. "I feel like it's [the car] a good platform, a good foundation to work from.
"Definitely we are going to keep asking for downforce, and hope the guys continue to do a great job at the factory."
Info: Jonathan Noble, Autosport.com Image: Mercedes GP