After crashing in Australia, loosing his engine in Malaysia he finally seemed to change his luck in China when he managed to score points, and now…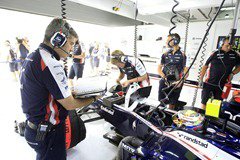 The Williams driver will receive a 5 grid penalty for tomorrows Formula 1 race in Bahrain because the Williams Team was forced to change the gearbox of the car. The mechanics have found a problem with the gearbox and they have decided that the it needs to be changed in order to avoid bigger problems during the race.
Maldonado scored his first points in China after he managed to finish the race in 8th place after in Australia and Malaysia he lost everything in the last lap of each race while he was running sixth.