HRT driver Narain Karthikeyan has responded to the derogatory remarks made by the current Formula 1 World Champion Sebastian Vettel.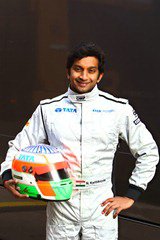 The two of them were involved in an incident on lap 47 of the Malaysian Grand Prix in which Sebastian clipped Narain's front wing and got a puncture on his rear left tyre.
After the race Sebastian Vettel was more than sure that the fault lies entirely with the HRT driver and while calling him a "cucumber" he also told to the BBC:
"Like on normal roads, you have some idiots driving around. It seems there is also one driving here."
At first Narain apologised to Sebastian for the incident and also to Jenson Button while explaining that he did all that he could in order to avoid them. Following the wave of criticism that he received, the Indian driver stood up for himself and accused Vettel of being a "cry baby" in an interview to Hindustan Times:
"For a world champion to say words like that is really shameful. It is really unprofessional. For a driver who has achieved so much to take out his frustrations on me because he is having a difficult year is really sad. One does not expect a professional sports man to be such a cry baby."
Some kind support for Narain has come from the Force India drivers and especially Nico Hulkenberg who has told reporters:
"From what I saw it was not Narain's fault. So I don't really understand why he said all that. I think Vettel was emotional at that point of time.  He lost out on points, it was frustrating for him and his team. At the end of the day, he is just human and sometimes you get emotional."
The stewards sided with Vettel and handed Narain a 20sec penalty during the race for causing an avoidable collision.
But according to new information, the double Formula 1 world champion might be sanctioned by FIA for failing to comply with the FIA code of conduct implemented by Jean Todd. Still, any penalty is likely to be a mild one.