Roger Benoit, one of the longest serving F1 correspondents in the paddock, said Tuesday's events at Jerez were "embarrassing".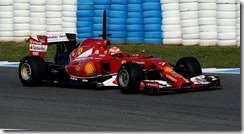 "I have not experienced a start to a new test season such as that in 45 years in formula one," Benoit, who writes for the Swiss newspaper Blick, told Germany's Bild-Zeitung. As the new hybrid and V6-powered single seaters – featuring bizarre and often rude-looking nose appendages – broke down, hit the barriers or failed even to emerge from the garages, Benoit said F1 had "pulled its pants down in front of the whole world". "Why do we always make everything more complicated?" he lamented. Marc Surer, the expert pundit for German television Sky, agreed: "I had not imagined it would be quite this bad."
Where usually up to 100 laps per day and beyond is de rigueur in F1's era of tightly limited testing, Ferrari's Kimi Raikkonen was Tuesday's most prolific runner, with 31 laps in the bag. And his best lap was 10 seconds off the pace of a normal Jerez test, even though he insisted that "doesn't mean anything". "We are only learning a new car and driving as much as we can," said Raikkonen. The bulk of the rest of the field could count their tallies on the fingers of one hand, including the bizarrely double-nosed new Caterham, whose Marcus Ericsson managed only a single outlap in the entire test day. "If it's slow but beautiful then what's the point of that?" rookie Ericsson said. At the moment, however, 'ugly' and stationary is the only conclusion to draw from F1 2014.
McLaren's MP4-29 didn't leave the garage even once. Jean-Eric Vergne, in the unseemly new Toro Rosso, managed 15 laps and was happy, "because just getting the car on track was an achievement". World champion Sebastian Vettel was stranded in the pits nearly all day after mechanics installed one of the new Red Bull's components upside down. The German did not point a finger at his crew, however, telling Welt newspaper that this year's cars are "like a puzzle" to put together. "Before, F1 cars were not so close to rocket science like they are now," he is quoted by F1's official website. Toro Rosso chief Franz Tost said: "When we ran the car at Misano, it became clear how difficult it was to get all the systems interacting with each other." Red Bull team boss Christian Horner said at Jerez: "There's probably 40 per cent more drawings required to produce the car and therefore that many more parts to be made and tested. "I don't know how the little teams are coping," he told the BBC. It is obvious to say that, given the team's former dominance, Red Bull would have preferred the regulations stay the same in 2014. "It is clear that F1 must evolve and be relevant to the automotive industry," Horner is quoted by Brazil's Totalrace, "but we do need to question the timing of this change. "There are several cars here without many (sponsorship) stickers."
The boss of one of those smaller teams, Toro Rosso's Tost, admitted that the necessary annual budget had increased by 25 per cent over the winter. "And that money is only to build a car and perform at about the same level as last year. In short, the situation is difficult," the Austrian told Russia's f1news.ru. He predicted, however, that the farcical sight of constantly-waving red flags would eventually end. "I think in Melbourne it will not happen," said Tost. "I think already here, on Thursday and Friday, we will be hearing the fantastic music of the new turbo engines. "This is only the first test day in January — there is plenty of time until Melbourne."
Some, however, are not impressed with the milder V6 tones, Nico Hulkenberg admitting Tuesday's proceedings reminded him of a DTM touring car test. Mercedes' Toto Wolff, however, said early testing is not a good judge, as the engines are not running at full tilt. French driver Vergne agreed: "I would say that we were trying everything in a 'safe mode'." Finally, as Tuesday's most prolific runner, the spotlight fell on the taciturn Raikkonen to deliver the verdict on how 2014 feels from the cockpit. "It's definitely different," he said, "but it's not like night and day." And what does he think of F1's brave new era? "The rules are what they are," Raikkonen told the Finnish broadcaster MTV3, "and the cars are built to whatever the rules are. It makes no sense to complain now."
Info: GMM, Image: Ferrari