Nico Rosberg has warned that Mercedes will face in Bahrain the biggest problems yet, because the tyres are overheating due to high temperatures.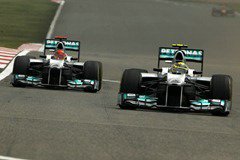 Nico managed to place himself on P1 in the second practice but the Mercedes drivers experienced an accelerated tyre degradation which raised a certain level of concern among the team strategists.
He said that because of the high temperatures in Bahrain the tyres were degrading faster than on any other circuit visited this year.
"That was a good start to the weekend, and whilst it's nice to be quickest today, we know that doesn't count. The most important thing still is to improve our race pace. For the moment, it looks reasonable but we need to analyse where we are on high fuel levels compared to our competitors and draw our conclusions. The conditions are really tough out there, so the race will be quite demanding from the tyre perspective."
Mercedes was not friendly with its tyres in 2011 and it seems that the new W03 carried over the same feature into the 2012 Formula 1 season and they had numerous problems with the tyres in Australia and Malaysia yet they seemed to find a solution for China where Nico Rosberg scored his first pole and race victory of the career.
Michael Schumacher downplayed the tyre degradation concern by saying that in Bahrain every team has problems with the tyres because of the high temperatures which can go as high as 35°C on air while the track surface can easily reach 60°C.
"We started well today, and our long runs are satisfying as well as our overall times. Unfortunately I could not complete my fast lap properly due to traffic. We will have to see what the outcome will be tomorrow and on Sunday as the tyres go away very quickly. You really have to stay within the limit of them, that´s going to be the main issue. Let´s see what we can make out of it but the start of the weekend has definitely not been too bad for us."
Pirelli has brought to Bahrain the soft (yellow) and medium (white) tyre compounds.
Info and Image: Mercedes AMG