Red Bull is not ready to announce its 2014 driver lineup, team boss Christian Horner insists.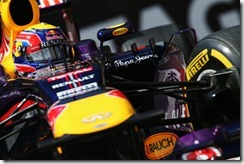 With Mark Webber approaching his 37th birthday, the end of his contract and amid a fractious relationship with Sebastian Vettel, it has been rumoured Daniel Ricciardo or Kimi Raikkonen are at the front of the queue to replace him.
Australian Webber, however, sounds confident he will still be on the grid in 2014, as he is reportedly looking ahead to the radical new turbo V6 engine rules. "There will be so many new things that you'll see many retirements in the first grands prix of the season," he told Italy's Autosprint magazine this week. "Even winter testing will be complicated because it won't be like today, covering 400 kilometres a day — the cars will be in the pits a lot of the time. "I think that in the early races, it will be good enough to get to the end of the race and in the points," added Webber.
Horner, meanwhile, is not ready to talk about Red Bull's 2014 lineup. Asked specifically about Raikkonen, the Briton said at Milton-Keynes this week: "There is only speculation. "We have not decided what we are going to do beyond Mark's 2013 contract. But if we do have to announce the name of a driver, it certainly won't be in the next week."
Info: GMM, Image: Red Bull Content Pool