Heikki Kovalainen has admitted he is unlikely to reappear for Caterham during Friday practice sessions in 2013.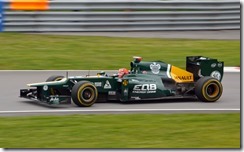 "I think not," said the Finn, who after losing his race seat at the end of last year, was drafted in for Friday morning practice in Bahrain and Spain. But Kovalainen told Russia's Championat that further appearances in 2013 are unlikely, given that Caterham is now pushing ahead with development of next year's car.
"When I came in for the practices," he explained, "it was because it was proving quite difficult for the team to assess some of the new items at the start of the championship. "Now there is no such need, so I don't think I will be driving again on Friday," Kovalainen added.
However, the 31-year-old has been linked with the underperforming Giedo van der Garde's race cockpit, and Kovalainen admitted he is not interested in switching to another series, such as Le Mans or DTM. "At the moment, no," he insisted. "My only concern is formula one. This year already I had a lot of suggestions from different series, but my heart is in F1."
Kovalainen said his task is to convince a team that he is better value than a rival driver who brings sponsorship to his seat. "I have always been paid," he insisted. "I have never looked for money to get a seat. I didn't do it before, and I will not do it in the future. "I think that (money) is the only reason I'm not racing right now."
Info: GMM, Image: Caterham F1 Team