Kimi Raikkonen on Friday said he is unwilling to even talk with Lotus about 2014 until certain issues are cleared up.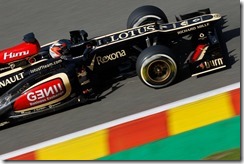 As he did little to assuage suspicions he actually wasn't ill on Thursday, the 2007 world champion also hinted Lotus is behind on paying him. "Yeah, fine," he said when reporters asked if he had returned to health. "There's always reasons for things. I don't have to tell."
Raikkonen also suggested at Spa-Francorchamps that options to switch to Red Bull or Ferrari next year are still alive. "They (Lotus) know exactly what they have to do first, and then we are open to talk," he said.
Undoubtedly, the inimitable and unforthcoming Raikkonen was uncomfortable and annoyed as the media spotlight burned brightly. "Why should I talk yesterday (Thursday) and today say the same thing?" Brazilian correspondent Livio Oricchio quoted the Finn as having said. Oricchio, writing in O Estado de S.Paulo newspaper, said Raikkonen was "clearly annoyed by being in front of the dozens of reporters in the Lotus motor home". "He started the interview half an hour late and would not speak loud enough so that those more than five feet away could hear a single word," he added.
The most concrete piece of news from the gathering was that, despite his manager Steve Robertson saying talks with Red Bull had collapsed, Raikkonen had a slightly different take. "I have no answers from them and I am waiting to hear from them personally what they are going to do," he said.
Raikkonen would not be drawn on the rumours also linking him with his former teams Ferrari and McLaren. Many insiders, however, think Ferrari would be reluctant to pair him with clear number 1 Fernando Alonso next year. In fact, the Spaniard said 24 hours ago that he would prefer to keep Felipe Massa alongside him, as the Brazilian had beaten Raikkonen in 2008 and 2009. "It is his opinion," Raikkonen responded, "and everyone has the freedom to say what they want. As I do."
And what about the suggestions Alonso would veto the move altogether? "You'd have to ask Alonso," Raikkonen answered, "although I don't think that it is his option — nor mine."
Info: GMM, Image: Lotus F1 Team