Last year the Canadian Grand Prix had two DRS zones and the overtaking was deemed easy by some, therefore this weekend GP will only have one DRS Zone.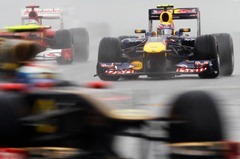 With DRS being an on-going experiment in 2011 the Circuit Gilles-Villeneuve saw two zones available during the race. The first zone was from the hairpin to the final chicane while the second one was available right after the Start/Finish line.
Following the criticism that overtaking was way to easy in 2011 Formula 1 race FIA has reverted to one single zone for this weekend.
They will not use (as expected) the Start/Finish line but instead they will use the area from turn 11 to the final chicane. The total length of the DRS Zone was also shortened with about 50m. The main motivation behind that was the fact that the 2012 Pirelli tyres have more of an effect on overtaking than the DRS.
Source: ESPN, Image: Getty Images/Red Bull Content Pool