Ferrari's Technical Director Pat Fry is convinced that the team needs to maintain its aggressive work if they want to remain in the hunt for the championship title in 2012.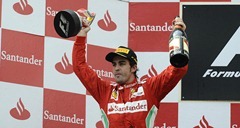 Following the tests in Mugello and the good performance in Spain, Ferrari seems to be on the right track now, with all the upgrades introduced paying off. The Scuderia team knows that there is plenty more to be done in order to manage the gap to its rivals.
Fry and the technical team were pleased with how the new updates worked for them in Barcelona and they are continuing now to produce new updates for Monaco and Canada. Fry said in a video on Ferrari's website:
"It was a good effort all around to get the parts delivered to Barcelona and I think most of them worked as expected. There were a few things we are still looking at now trying to understand if they are working to the right level, but all the bits added performance – some just a little bit less than we were expecting.

So, all in all, everyone was reasonably happy with the updates we made. But obviously we still have a long way to go, and we have to keep working at a similar rate."
With the major upgrade brought in by Ferrari in Barcelona, the F2012 was competitive enough to allow Fernando Alonso to fight and secure the second place on the podium. The Spaniard joined Sebastian Vettel for the lead in the drivers' championship with both having 61 points.
Looking further, Fry said that more upgrades are scheduled for the next few races including new aero parts for Canada and a completely redesigned exhaust system soon to follow.
"It is going to be a constant drive for updating, like everyone does these days. We have a different rear wing and front wing package for Canada, which is a slightly different downforce level.

And then we are working on the exhaust system. There will be versions of that that we will test. We learned a lot at the start of the year in understanding the problems we had from that, and we had another go at Mugello.

We have a good understanding, but the performance… we are just trying to put it on the car as quickly as we can. It will be a constant drive all the way through the season."
Source: autosport.com, Image: Ferrari