Force India on Wednesday said it will not hold Paul di Resta to his 2014 contract should the Scot want to join another team.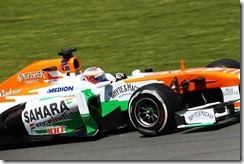 There have been rumblings about the 27-year-old's discontent in the middle of the grid and at the Silverstone based team, amid his recent criticism of race strategies and reports even a garage scuffle broke out in Montreal.
Deputy team boss Bob Fernley said on Wednesday: "Paul is contracted to us anyway for next season, so the question is whether somebody else comes in, so it won't be our decision. "But we wouldn't stand in his way. That's not our policy. If a driver feels he is better somewhere else, what would be the point in keeping him?"
Fernley said the fact Force India was able to pick up the pieces after Nico Hulkenberg's move to Sauber shows that the team would also cope with di Resta's exit. "We then proved by bringing in Adrian (Sutil) we are capable of recovering from such a situation and carrying on as normal," he said.
Meanwhile, another British driver – rookie Max Chilton – has revealed ahead of his home grand prix this weekend that he would like to stay at Marussia for a second year. "When it gets nearer the time then we'll hopefully work on it, but I love the team and obviously I'd love to stay for another year and to keep learning," he said. "It's what a lot of drivers do; starting out at a team like this, learning, become the driver you are, and you work your way up."
His teammate Jules Bianchi has stolen a lot of the headlines so far in 2013, but Chilton believes he has done a good job in his own rookie season. "I don't think I've underperformed," said 22-year-old Chilton, who claims the team was "over the moon" with his race in Monaco. "I know the whole team are behind me, so if I can keep doing that, keep showing them what I can do, then anything is possible."
Info: GMM, Image: Force India