Ferrari team principal Stefano Domenicali says he is still unsure where his team lines up in the 2013 pecking order.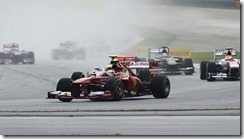 With the rapidly degrading Pirelli tyres having an effect on racing and both race weekends having been hit by wet weather, getting a clear indication of each team's relative pace has been difficult. Domenicali admits even he is unsure how Ferrari stacks up compared to the rest of the field other than that Red Bull has the quickest car.
"I don't know exactly where, but for sure within the leaders," Domenicali said. "There are tracks where our car will perform better; there are certain tracks where some others will perform better than ours. For sure Red Bull in my view is still the strongest at the moment, but we'll see.
"Mercedes has done a step, Lotus is very competitive. It will be an interesting and challenging season but we will be there no doubt."
Domenicali added that the tyre situation was bringing drivers closer together at certain times in races and giving teams more of a challenge in managing both drivers.
"For sure it's not easy; you can see what is happening in the other teams. It is something that from the general point of view is part of the competition. It's part of the fact that every driver believes he is the strongest, and it's good to be like that. And it's part of the maturity of the drivers that are working with Ferrari to understand that."
Info: ESPNF1, Image: Ferrari