Pirelli has admitted it may ease its newly conservative approach to formula one.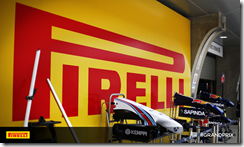 Initially tasked by Bernie Ecclestone to spice up the racing action, the Italian marque endured an horrific 2013, mired by exploding tyres and hefty criticism. So with the arrival of the new high-torque V6 engines for 2014, motor sport chief Paul Hembery admits Pirelli "took a bit of a step back" this season. "We were very aggressive in previous seasons, not only to create a strong strategy challenge but also an engineering challenge for the teams," he told F1's official website. "That worked for some — and maybe didn't work for others."
Until now, Pirelli's new approach has at least taken some of the pressure off the official tyre supplier, which Hembery admits he is happy about. But the criticism might now be creeping back in. In Barcelona, Force India driver Sergio Perez was highly critical of Pirelli, claiming overly conservative tyres are contributing to the "embarrassing" problem of F1 being challenged for pace by the GP2 cars. "Hopefully, Pirelli will listen and react also to the fans to make the races more interesting," said the Mexican.
However, Hembery's initial reaction to Perez was to say that the "pathetic" comments were just an "excuse". But a more detailed look at the Spanish grand prix might reveal some truth to Perez's concerns. Last year, after five races, there had been 253 overtaking manoeuvres, according to Finland's Turun Sanomat newspaper. Now, the tally stands at just 156. Hembery is now sounding more open to easing Pirelli's more conservative approach later in 2014. "Maybe sometimes we will see during the season – as the cars improve – that probably some of our choices are a bit conservative," he admitted. "As they reduce the amount of wheelspin and the amount of sliding, that means that there is less problem from the tyre overheating — and maybe we have to review our choices for the season going forward once we understand the effects of the rate of development of the cars."