Pirelli is starting to indicate that it can leave Formula 1.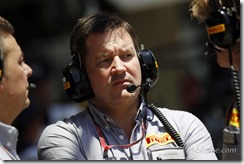 Since the beginning of the 2013 Formula 1 World Championship the Italian tyre company was pushing hard for a new contract, in order to continue supplying the F1 grid beyond its initial three-year deal. But so far their efforts remained were not answer yet and there are also signs of frustration, not just because of the widespread criticism of its 2013 tyres, and of the lack of a representative test car and warm-weather winter testing, but also because the teams are resisting the push for mid-season changes.
When asked what Pirelli's greatest challenge is in 2013, the Motorsport Director Paul Hembery said: "A contract!" He also indicated that Pirelli is growing tired with all the media criticism. Referring to 2014, Hembery said: "It's probably a year where we will probably step back, be cautious — zero degradation, no pitstops and they (the teams) can do all the talking!".
He, then also revealed September 1 as a deadline for needing to supply teams with all the specifications of the 2014 Pirelli tyre — which will have to be markedly different due to the new V6 engine rules. "You can imagine how ludicrous that (deadline) is when we have not got contracts in place. Maybe we won't be here," he is quoted as saying. "Clearly time is already getting too late. Things are getting extremely serious. "There comes a time where we will not have time to do the job anymore."
Germany's Auto Motor und Sport said F1 will not have many alternative suppliers to turn to, should Pirelli walk away. Correspondent Michael Schmidt said F1 chief executive Bernie Ecclestone has Cooper Avon as a back-up option.
Info: GMM, Image: Pirelli