Tony Fernandes admits Heikki Kovalainen's disappointing form for Lotus at the end of the 2013 season played a role in Caterham overlooking the Fin for this year.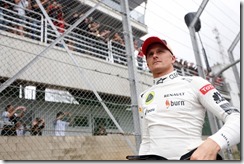 Kovalainen was a test driver for Caterham in 2013 after two years in the race seat, though he stepped in at Lotus to replace Kimi Raikkonen for the final two grand prix of the season after his fellow countryman pulled out after not being paid. But Kovalainen failed to score a point in either race, and saw his chances of stepping back into a racing role at Caterham evaporate as the team opted for Kamui Kobayashi and Marcus Ericsson.
For team owner Fernandes, Kovalainen's struggles for Lotus were enough to sway his mind on the decision.
"Obviously we would lie if that we said it didn't play a part," Fernandes told Autosport. "It was a whole mixture of a lot of things but in any decision there are pros and cons.
"I am egalitarian, I put it out to various team members – there were those pro Heikki and those pro Kamui and I had to make a choice. "We have to move on, we have to be a little bit cold, if we want to be successful,"
Info: ESPN Sports Media Ltd. Image: Lotus