Kimi's never won in Germany – whether in the European or German Grand Prix – the latter of which has seen him retire six times. Can this finally be the year for the Iceman at Hockenheim?
Kimi Räikkönen: "There's no reason why we shouldn't be fighting for another podium"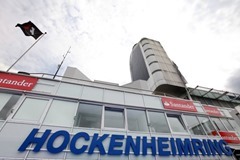 Q: Do you have everything you need to be successful at Hockenheim?
Kimi: Yes. We've got a good car, we understand the tyres quite well, we've shown that we can be fast and race well… there's no reason why we shouldn't be fighting for another podium.
Q: What is it about Germany that hasn't been kind to you in the past?
Kimi: I don't know, maybe I did something bad in a former life? I've always enjoyed driving in Germany, but the problem is that luck has never been on my side there and something has always happened to stop me winning. I've had four pole positions which shows my speed on German soil, but six retirements haven't been what I wanted.
Q: Does it set you more of a challenge having raced in Germany fifteen times but never taken a win?
Kimi: Not really. A race is just a race and you always try to do your best. In the past, the races I've contested in Germany have never gone as I had been hoping for. Obviously both circuits – Hockenheim and the Nürburgring – have not been very kind to me. I like them both and I have always been very competitive there. Maybe it will all come together this year.
Q: Looking back to Silverstone, the E20 seemed to be going well?
Kimi: We were really quick on the hard tyres, especially at the end of the race. It's just a shame we didn't have the space on track to use it for the whole race as unfortunately I spent quite a lot of time stuck behind slower cars so we couldn't show our full pace until we were in clear air. We were close to Felipe [Massa] at the end, but we just didn't have enough laps left to get another position. I was really pleased with the car. It felt good all weekend and we're definitely getting closer to finding the full speed from it.
Q: What do you need for a fast lap at Hockenheim?
Kimi: The car can make all the difference here, and luckily we've got a good one. You need good traction out of the corners and if you're lacking rear grip it's hard to get the pace from the car to challenge for the top positions. How important is it to qualify at the front?
When I was last in Hockenheim in 2008 overtaking was quite difficult. Not as tricky as some circuits, but not easy at all. This year with the tyres, the KERS and the DRS it could be easier to overtake, especially if we are better on our tyres than the opposition. It's not all about qualifying at Hockenheim, but certainly it makes life easier when you start from the front and have clean air.
Q: So a start from the front and clean air ahead; anything else you'd like in Germany?
Kimi: Some hot weather would be good. Usually in Hockenheim it has been very hot and everybody has had problems with the tyres going off. Obviously, for us, the hot weather suits the car fine. Our car prefers the hot temperatures and in the long runs it's not that hard on tyres. Let's have some real summer weather in Hockenheim.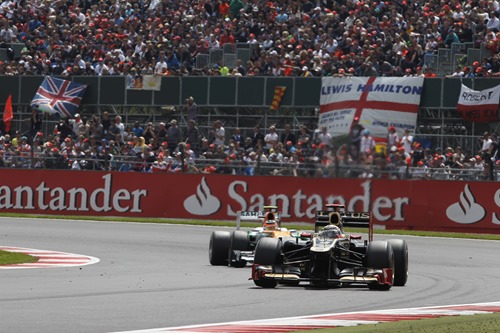 Romain Grosjean: "Hopefully we'll get pole position, a win and the fastest lap! The perfect weekend!"
After a fighting performance to progress through the field at Silverstone, Romain Grosjean arrives in Hockenheim brimming with confidence for the tenth race of the year.
Q: What are your thoughts heading to Hockenheim?
Romain: I like Hockenheim because I've raced there quite a few times. In fact, one of my first single seater races was there in Formula Renault 1.6 in 2003. Then in Formula 3, I did about eight races at the track because we went twice a year with the Euro F3 Series, so there are a few good memories and I'm looking forward to returning. Hopefully we'll have some updates on the car, get pole position, a win and the fastest lap! The perfect weekend!
Q: It looks like there will be good passing opportunities, so there should be good strategic opportunities even if you don't qualify on the front row…
Romain: I think the chances of overtaking will be quite high. We need to see the DRS zone and so on, but looking at the layout it's good for that and all the races here are usually interesting. I'm sure we can have a good race and deliver a strong result. The team have been working hard and finding solutions to improve our qualifying performances. In Silverstone it was cold and wet which made for a difficult session but we still made it through to Q3 quite strongly, even if we weren't able to go out. I'm sure Hockenheim will suit us well.
Q: Are you happy with the car come rain or shine?
Romain: Everything is fine and anyway you cannot change the weather, but to be honest I'd prefer weather like Valencia; sunny every day! You don't have to worry about which visor, which clothes and so on – you know it's going to be hot and I like the sun. Let's see.
I hope the summer will be with us.
Q: Sunshine certainly wasn't the name of the game in Silverstone…
Romain: It was a very long weekend. Very wet, and then dry by the end. I had my ups and downs, but I think that was one of my best races – along with Canada – because the recovery from almost last to sixth was amazing. The car was working fantastically well, while again with the tyres we managed something that no-one else I think was able to achieve. Those are very good points. Now we need to put everything together. We've been saying that for a while now, but I'm sure it's going to come. If we can manage a good qualifying – in the front two rows – then I'm sure we can get the win.
Q: How did you feel in the car when the wing was damaged on the first lap?
Romain: I realised quite early and the engineer saw it. So we took the right decision to come in early. But then we knew that the race was not going to be easy. I had to push to recover and make up some time, but on the other hand I knew that if I destroyed the tyres I'd have to do a conventional three-stop and that would kill the race for me. So it wasn't easy, but here again we have been very gentle with the tyres and the car has been working very well. That was very good given the small amount of dry running time we had.
Q: You say you were being gentle on the tyres, yet you were setting fastest laps…
Romain: Well that is the secret! The key is trying to go quick without killing your tyres. It is a mix of a few things – including the car for sure and your driving style.
Q: We're coming up to the halfway point in the season, what mark would you put on your half-term school report?
Romain: Well I'm a perfectionist in that I always want better, so I'm not 100% happy because not 100% has been right. But then, this is my first full season in Formula 1 and I'm talking about maybe getting my first win off the back of two podiums already, and what should have been three without a mechanical issue. I can also look at good races such as Silverstone where there was fantastic overtaking and fighting with the World Champion. So I would say 7.5 out of 10.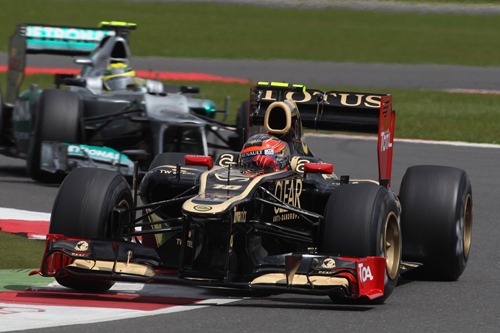 Find us on Facebook and Twitter for all the latest updates for the F1 2012 season