Red Bull's early-season crisis has raced from Jerez into Bahrain, as the second of just three pre-season tests began in the island Kingdom.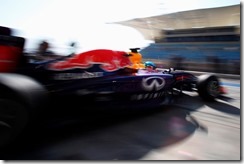 "Obviously we're not happy with where we are now and we have a long way ahead of us," said world champion Sebastian Vettel, after completing just 14 laps in the troubled Renault-powered RB10 on Wednesday. The German warned that the problems – different to the overheating and Renault-related issues that almost completely wrote off the Jerez test – will not have "a quick fix". "Very often you fix one problem and another pops up, which is what happened," said Vettel. Team figures Adrian Newey and Dr Helmut Marko admitted recently that the main Red Bull problem at Jerez was overheating.
And that also seemed a problem in Bahrain, with Guardian correspondent Paul Weaver reporting an obvious "smell of scorching" from the Red Bull garage. Vettel, meanwhile, was seen snatching a fire extinguisher from a hesitant marshal after breaking down on track. "Our guys are getting very little sleep right now – one to three hours maximum," the 26-year-old driver told reporters. Vettel said it would be wrong to "separate" Red Bull's problems from troubled partner Renault's, and there were concerned faces all round when Renault president Jean-Michel Jalinier met on Wednesday with Marko and Christian Horner.
Lotus also struggled to run its Renault-powered E22 on Wednesday, but Renault's engineering chief Remi Taffin sounded happier in the island Kingdom. "To be honest I don't think we are that bad now," Italiaracing quotes the Frenchman as saying. "Today we were able to use our power unit as we wanted. Certainly, we are not at the ideal level, but at least we have a good basis. "Generally, the problems are not as severe as they were at the start, but we still have to solve all of them. We are on the road to recovery," Taffin insisted. He said even the looming FIA homologation date, February 28, is not a huge concern. "If I told you everything is in place today I'd be lying," said Taffin, "but I'm confident that eventually we will have an engine which we will be fully satisfied in taking to Melbourne."
Toro Rosso also had major problems on Wednesday, but the Renault-powered Caterham collected a healthy tally of laps. "There were cars in the garage because there were problems related to the engine," Taffin admitted, "but if you look at Caterham, they drove 60 or 70 laps. "So we are satisfied with the basis of today. We don't yet understand all of the problems, but we will."
Info: GMM, Image: Red Bull Content Pool