Kimi Raikkonen has urged Ferrari to improve, after the team's blunder cost him a competitive grid spot for the Hungarian grand prix.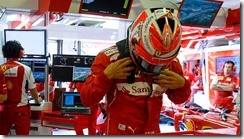 Amid his difficult 2014 season and return to the Maranello outfit, the Finn was enjoying a better weekend at the Hungaroring until qualifying. A clear strategy error meant he bowed out in 'Q1', outqualified even by the junior Ferrari driver Jules Bianchi in the backmarker Marussia. "The plan was to go out," Raikkonen told reporters, "but the team said 'No, you are fine, you do not need to go out'. "I questioned it a few times, but they said no need, and we can see the end result."
Undoubtedly frustrated and angry with the decision, Raikkonen insisted: "I don't see the point to shout. The mistake is done. "I've made mistakes in the past, I will make them in the future, and people do make mistakes, but there are things we have to change to improve. "As a team in formula one, as Ferrari, we should not be doing these kind of things. None of us are in our first year. "Obviously we have to improve, to do things differently because we can see there are weaknesses in the system," he added.
The setback comes at an awkward time for Raikkonen and Ferrari, as both are struggling in 2014 but contractually tied up for the 2015 season. The struggle is badly hurting Raikkonen's status and reputation, but he insisted on Saturday: "I have not suddenly over the winter lost a few seconds laptime. "So it's the case of putting things in the right places for me." Will Saturday in Hungary affect the course of the future? "It will not influence my decision," the 34-year-old answered. "I have a contract, I fully believe in Ferrari, I've enjoyed a lot of wins and success with them. "As I say, I trust in the team, but there have to be changes and improvements, which can only happen if we work as a team, as a group, as Ferrari."
Image: Ferrari