Kimi Raikkonen has been quoted as lamenting the end of F1's more exciting days.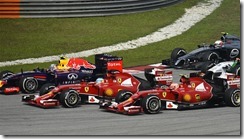 The Finn went into the 2014 season playing down the likely impact of the sweeping 2014 rules, featuring limited fuel and quieter, energy recovery-dominated turbo V6 engines. Raikkonen has however struggled for form since returning to Ferrari to race the Italian marque's 2014 car, and he is quoted by Austria's Laola1 as yearning for a bigger thrill. "The racing itself should be more exciting again," Raikkonen, who at 34 is F1's oldest active driver, said. "I want more fights, rear wheel-to-wheel battles, but that's not so easy when at the same time you want to bring in sophisticated cars."
As for his personal struggle with the new F14-T car, Raikkonen added: "It doesn't fit my style yet but that's not a disaster, at least I can still collect points." Raikkonen's struggle and his aversion to the 'new' F1 could ramp up rumours he might not stay around on the grid much beyond 2014. Ferrari team boss Stefano Domenicali was photographed meeting in the paddock with Red Bull's reigning world champion Sebastian Vettel not once but twice last weekend in Malaysia.
Domenicali played down the rumours. "We as Ferrari are very pleased with what we have, and I am sure that Sebastian is also pleased with his situation because it looks as if he can fight again," he told F1's official website. Unlike Raikkonen, apparently much happier in 2014 is F1's other 34-year-old, Jenson Button, who is set to mark his 250th grand prix this weekend in Bahrain. "The positives of a guy my age outweigh the negatives," he was quoted on Wednesday by British newspapers. "So maybe the best years are to come."