Red Bull says it is not interested in being powered by Mercedes.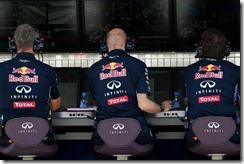 Unhappy with its underpowered Renault V8 a few years ago, Red Bull looked into switching to Mercedes but was vetoed by the then works team McLaren. Things have now changed: McLaren is a mere Mercedes customer and switching to Honda, while Mercedes is totally dominating the 2014 season with its industry-leading new turbo V6.
Furthermore, Red Bull is less content than ever with struggling Renault, but Dr Helmut Marko on Wednesday played down suggestions the reigning world champions might want to be supplied by arch-rival Mercedes instead. "We do not want their engine, even if it is the best," he told Germany's Auto Bild. "How would we ever know that they are giving us equal equipment?" Marko added.
Honda, returning to F1 next year as McLaren's new works supplier, might also be an option for Red Bull, with the Japanese marque open to supplying customers from 2016. Red Bull mogul Dietrich Mateschitz told Speed Week: "First, we have a long-term contract with Renault. "And secondly, we would only receive a customer engine from Honda."