World champion Sebastian Vettel finally managed some laps but at a sluggish pace on Thursday as Red Bull's pre-season crisis continues.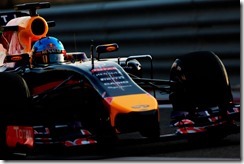 His tally of 59 laps in the troubled Renault-powered RB10 ended fears Adrian Newey's latest creation might never run at all, but he was more than five seconds off the pace set by Kevin Magnussen in the McLaren. "We still have lots of problems – large and small – that we need to fix," Vettel is quoted by the German newspaper Die Welt. Red Bull's Dr Helmut Marko admitted that the task now achieved was simply to get the RB10 to work, and that on Thursday the car "was just rolling around". Vettel is quoted by Bild newspaper: "The laptimes are not the best, but the first thing was to get the car running."
The reigning quadruple world champion, who won the last 9 races of 2013 on the trot, is now returning to Europe, with teammate Daniel Ricciardo now to complete the first week of running in Bahrain. Ahead of his turn in the RB10, Australian Ricciardo was his usual positive self in the midst of what many are calling the Red Bull 'crisis'. "We are not halfway through testing yet, there's still seven days, which is a lot," he told Australian media Fairfax. "Then we have got Melbourne and even if – and this is just me talking – even if the first six races don't go to plan, there's still 13 or 14 left," he insisted. Gamblers would currently be putting their title money on Mercedes. "They are strong, no doubts," said Ferrari's Fernando Alonso on Thursday. "But this is (only) a test," the Spaniard insisted. "You don't really know how much fuel the cars have, how is the usage of the tyres etcetera at the moment. "So it's not a worry," said Alonso.
And he thinks the most important thing in Melbourne next month will be reliability, not performance. "To have the fewest problems and to finish will almost guarantee a good result," he told Spanish-language reporters in Bahrain. And a source told a Spanish sports daily that Ferrari – and probably other top teams as well – is keeping its full performance up its sleeve for now. "The fact that Mercedes looks strong was expected, it's no accident," said Alonso, "but we also feel good. "And I also think that Red Bull will be very strong in Australia."
But Red Bull team boss Christian Horner agrees with Alonso that Mercedes is currently leading the pack. "They've done an impressive job," he told the BBC. "You'd have to say they look the favourites. "They're doing mileage, running round competitively and they're in a strong position if the race was tomorrow. Thankfully, the race isn't tomorrow." McLaren, despite its 2013 troubles, is another Mercedes-powered team that is looking strong ahead of the new season.
Danish rookie Magnussen's best time on Thursday was just 2.5 seconds shy of the Bahrain pole last year. "He seemed to be pretty fast, yes," agreed Force India driver Nico Hulkenberg. "But laptimes are not really on our radar right now." Faring less well in Bahrain this week is Lotus, who after sitting out the opening test at Jerez are now struggling simply to run the Renault-powered E22. "Renault I think can say more about it," said Romain Grosjean when asked why his programme on Thursday was limited to just 18 laps, "but some things we need to take the blame for as well."
Lotus team bosses have insisted the decision to sit out Jerez was right, but Grosjean admitted to Auto Motor und Sport that running in Spain "would have helped a bit". "But now it's just the way it is," he added. "Our day of filming at Jerez worked very well and we thought everything was fine, but here we have had some things that have needed hours to fix. "It was a surprise that we could have done without."
Info: GMM, Image: Red Bull Content Pool