Max Verstappen and Daniil Kvyat are the future of Red Bull.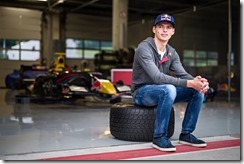 The pair, both teenagers, will be the race lineup at the energy drink company's second team Toro Rosso in 2015. Decision maker Dr Helmut Marko is excited. "Daniil Kvyat has been very impressive," said the Austrian as he revealed that current Toro Rosso driver Jean-Eric Vergne will be replaced at the end of the season by the next rookie sensation, Dutchman Verstappen. "The older drivers need to step on the gas," Marko warned. "There is no guarantee just because you're in formula one already. The younger drivers want to show them up."
Until now, the Red Bull sensation has been quadruple world champion Sebastian Vettel, who is having a bad season so far. Marko insists he is not criticising the once baby-faced German, now 27. In fact, he said criticism of Vettel so far in 2014 has been "for the most part exaggerated and unfair". "You should know the reasons for something not working (before criticising)," Marko told the new edition of the German magazine Sport Bild, published on Wednesday. "Mainly for Vettel it has been the extreme reliability problems with his car, and when it was fine he was unlucky. "He is certainly not a worse driver than last year," he insisted, adding that Vettel will also have successfully "recharged his batteries" after the August break.
At the very same time, Red Bull has been busy planning for the future. A thorough preparation plan for 16-year-old Verstappen's 2015 debut is ready to be unveiled, and Marko admitted that it will probably involve a Friday practice session late in 2014. "Max will drive the formula 3 season to the end," he is quoted by Speed Week, "but also driving in the Formula Renault 3.5 (series) is planned, and show runs with the formula one car, such as in Rotterdam. "There are many ways that we can ensure that Max is well prepared going into 2015."
Marko said he realised Red Bull must make a concerted effort to sign Verstappen when he was watching an "extremely difficult race at the Norisring with changing conditions". "Max was two seconds faster than everyone else. At this point you no longer have to discuss whether a driver like this needs another year in a junior series. "He is ready for formula one." Verstappen, whose famous father is the former F1 driver Jos, agrees. "I take this step just as I did all the others — with respect but without fear. "I was amazed how easy it was for me to go from karting to formula 3, and the same when I tested the Formula Renault 3.5 car at the Red Bull Ring. "I was used to it after about ten laps. "The biggest difference will be the power. F3 has about 250 horse power, the Formula Renault is 450 but formula one is 800." Meanwhile, Marko expressed confidence Red Bull's senior team will have a much better 2015 season together with struggling engine supplier Renault. "They have done the right restructuring," he said. "We are deepening the cooperation extremely. This means that we are developing the new car for 2015 together."
Image: Toro Rosso