With only four days of track running now left until Melbourne, a clear trend is emerging.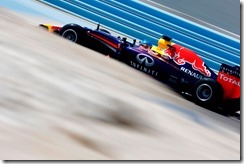 Defending champions Red Bull are in major trouble, and the works Mercedes team is leading the way. In the silver W05, Nico Rosberg ended the first week of Bahrain testing on Saturday with a stunning laptime, less than 1 second off his 2013 pole. And it emerges that the German, practicing qualifying, was using only the 'soft' tyre, not the faster 'super-soft' that has also been in action by other teams in Bahrain.
At the same time, despite earlier signs of recovery, Red Bull's problems with the Renault-powered RB10 persist. Daniel Ricciardo, who managed a meagre 15 laps, was almost 7 seconds off the pace as the Bahrain test wrapped up on Saturday. "The challenge is to improve the rate of progress," engine supplier Renault's Rob White said, "because the gap to where we wanted to be at this stage remains substantial." With the FIA's engine development freeze deadline now just days away, White admitted Renault is "weeks" behind its rivals.
Red Bull's problems, meanwhile, are even deeper. The similarly Renault-powered Lotus has been faster, and on Saturday managed four times as many laps as the RB10. "I think we could be the lead Renault team," Lotus technical boss Nick Chester said. Of the four Renault-powered teams, only Lotus' black E22 does not feature a Red Bull gearbox. But none of them are likely to be in the running for Melbourne spoils. "The strongest teams out there are the Mercedes-powered teams," Mercedes' Paddy Lowe told Sky. "The Ferrari is also looking strong, so those are the people we are watching and trying to measure against."
Ferrari's Kimi Raikkonen ended his Bahrain week with a crash, and according to the German news agency SID he said the F14-T is "not bad". "The Mercedes powered teams have gone well here," he admitted, "but we were doing our own programme. It won't get serious until Melbourne. "The reliability of our car has been ok," Raikkonen is quoted by Finland's Turun Sanomat, "but in terms of speed I do not know what's going on."
Also fairly confident is Jenson Button, who told reporters that after McLaren's disastrous 2013 season, "We're in a reasonable position but you would also like to be faster. "We know we don't have the fastest car," he is quoted by Auto Motor und Sport, "but we also know that we are not slow." Button agreed that Mercedes' works team currently appears the fastest. "I already have a good idea of who will be on pole in Melbourne," he said, "but you couldn't say who will win the championship."
Right now, not too many bets are being placed on Red Bull. But Mercedes' Rosberg insisted: "It doesn't mean they won't recover. What it does mean is that (Red Bull) winning again this year is likely to be a far bigger challenge than the previous four."
Info: GMM, Image: Red Bull Content Pool