Renault chief Remi Taffin does not think the cars will lose much of their speed as F1 moves from V8 to V6 power next year.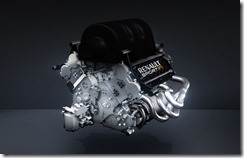 "I don't think we'll lose so much," the French marque's head of track operations told Russia's Championat. "Formula one is formula one, and we want the cars to still be the quickest. And they will be fast," he said. "I think that at the beginning of the season they will be slower than the current cars by a second, but after mid-season they could even be faster. "It's always been like that, (such as) when we moved from V10 to V8, and when there were big changes in the aerodynamics in 2009," Taffin added.
What will definitely change dramatically next year, however, is F1's sound. Recently, Renault released an audio clip of its new turbo power, and now Mercedes has followed suit. The Mercedes clip, which can be seen below and depicts a development engine at the German marque's Brixworth base simulating a lap of Monza.
Renault's Taffin thinks F1 will be loud enough next year. "Have you heard the GP3 cars?" he asked. "If you find yourself in the pitlane during their races, you are unlikely to last the whole race without earplugs. "Yes, the sound of the (F1) engines will be quite different in 2014, but it will still be very loud. It will still be formula one."
Finally, Taffin said there has been progress with 2014 Renault engine deals for existing customers Caterham and Lotus. "The fact that the contracts are not signed yet does not mean we are not already working with them (for 2014)," he revealed. "But the signing of the contract is not so simple: we're talking about technical matters, marketing, finance. "We know that the talks will end positively, but some questions still remain to be answered."
Info: GMM, Image: Renault