Upping the power of the RB10's Renault 'power unit' is no longer the only problem at Red Bull.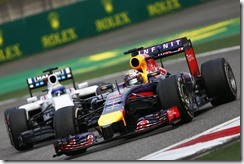 The reigning world champion team is now contemplating how to get its quadruple consecutive title winner back up to speed. Sebastian Vettel has struggled to match new teammate Daniel Ricciardo's pace in the new turbo V6 era, and in China the German's mood appeared to hit a new low when he responded to a team order with the words "tough luck". Team boss Christian Horner insists Vettel is simply yet to find the right "feel". "We know Seb is very sensitive with the car and how it enters into a corner," he explained.
Dr Helmut Marko, the champion of Vettel's career since boyhood, is refusing to rush to judgement. "We cannot judge where Daniel and Sebastian are at the moment in terms of their duel," he said. "It's too early. "We need to find the setup for Vettel so that he can be the 'tyre whisperer' again," Marko is quoted by Der Spiegel.
At the same time, Vettel's struggle is reflecting brilliantly on Ricciardo's reputation, having failed to completely prove his worth when he stepped up from Toro Rosso. "For me he has been the surprise of the season," said former F1 driver Jean Alesi. 1997 world champion Jacques Villeneuve agrees: "Ricciardo was always a good qualifier but not as quick in the race. But now he's also a strong racer." And former Mercedes chief Norbert Haug said: "Going one-up against Vettel is one of the most difficult tasks any driver can do." Vettel's specific struggle aside, Marko admitted that the trend since Red Bull's calamitous winter season has been generally upwards. "A podium today was in the realm of possibility," the Austrian said, referring to Ricciardo's fourth place, a few seconds behind Fernando Alonso. "But we also see that Ferrari has made significant progress."
Marko thinks part of the secret of Ferrari's success in China was a new blend of Shell fuel. "We are also hoping to soon get a fuel that is more efficient," he said, amid reports Red Bull's current Total fuel may be damaging the mandatory fuel flow sensors. Haug warned: "Certainly, Mercedes will not stand still and just watch the others get closer."