Robert Kubica is not yet physically ready to test a Formula 1 car, according to Mercedes boss Toto Wolff, whose company is giving Kubica a DTM run this week.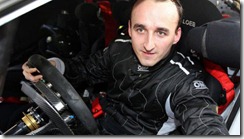 Kubica has already returned to competitive action in rallying and is currently expected to mount a European Rally Championship title bid this year with Ford or Citroen machinery. But he also remains interested in circuit racing and will test a Mercedes DTM car at Valencia on Friday.
Asked if this could be a precursor to an outing in a Mercedes F1 car, Wolff said the Pole's rehabilitation from his devastating rally injuries needed more time.
"If we see that he is doing well in a proper racing car with downforce, I think there are still some physical constraints to driving a monocoque chassis, with his elbow and with his arm," Wolff insisted. "I think we would all love to see Robert doing well in a Formula 1 car in the future, but it is definitely too early at this stage."
Wolff emphasized that the DTM test was an exploratory outing.
"We all obviously like Robert. He's very special. I think what we want to do at Mercedes-Benz is give him a chance of doing a proper test in a proper racing car, seeing how he goes and how he feels," he said. "He's not 100 percent fit yet. It's the first time he's in a car with downforce and I think we have to take it from there."
Info: Autosport.com