Nico Rosberg says he feels well equipped for 'mind games' with Lewis Hamilton.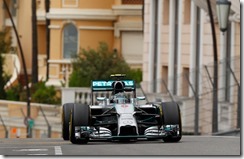 With Mercedes so far ahead of any other 2014 rival, the pair look set to joust for the world championship at the wheel of identical silver cars. Currently, Hamilton has the upper hand, having won the past four grands prix on the trot. And the 'mind games' have also started, with the Briton suggesting he is hungrier for victory than Rosberg, due to the German's more affluent upbringing.
For the moment, Rosberg is unmoved. "For sure there is a mental element, like any sport," he told Frankfurther Allgemeine Zeitung newspaper. "Michael Schumacher was incredibly good at these mind games, so it was very interesting for me to learn from him — I learned a great deal," Rosberg said, recalling his three years alongside the great seven time world champion. "But it's not yet a psychological war between Lewis and I — it's more still just out on the track." And Rosberg said he feels capable of taking Hamilton on in wheel-to-wheel combat. "Lewis is on a roll, that's quite clear," he said. "There are always times in sports when everything is going one way, but eventually the pendulum swings back in the other direction. "I have lost none of my confidence, because I know how fast I was in the last three races. "And another thing is that a world championship is all about consistency, and I have always been on the podium this year, which no one else has managed," Rosberg insisted.
But while it is not yet 'open war', it's also not all hunky-dory behind closed Mercedes doors. For example, Rosberg admitted he doesn't actively try to help Hamilton. "I wouldn't go to him and say 'Look Lewis, this is the best way to go!' In Barcelona I found the best way to set up the differential, the data was available but he had to try to find it himself," he explained. And Rosberg also said it is an advantage that he knows Hamilton's character so well. "Almost every day I notice something that was just as it was in the past," he said, recalling their days as karting teammates. "Lewis' strengths and weaknesses have not changed. He is incredibly fast on track, but he can snap if something is not quite right for him. "I know where I can beat him," Rosberg added. "Everything is the same (as before), which makes it a bit easier for me."
But when a karting trophy was the prize, Hamilton won. Rosberg thinks that is irrelevant. "Formula one is more than karting," he said. "It is far more technical and I am very interested in the setup and analysing the data. "For me it's incredible fun to find advantages over the others like that. Formula one is driving, yes, but it's also thinking."
Image: Mercedes GP