Toto Wolff is adamant that when Paddy Lowe arrives at Mercedes, Ross Brawn will remain the team boss.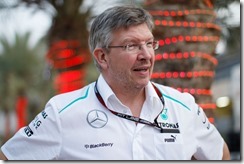 Although Lowe has yet to be confirmed by Mercedes, earlier this season McLaren placed their former technical director on gardening leave until the end of this year, giving weight to the rumours.
The rumours also suggest that Lowe's arrival could mean Brawn is out of a job.
However, not for the first time that has been denied by Merc executive director Wolff.
"One doesn't obviate the other," Wolff told the official F1 website.
"Ross is team principal and I don't want to change that. We need to get stability in the team as we have a mountain of work to do.
"From where this team is coming it is important to have as many good people as possible – that is my focus in all these discussions."
One member of Mercedes who has sung Brawn's praises in recent times is Lewis Hamilton, who credited Brawn's presence at the team for his decision to sign.
"Everybody has the highest esteem for Ross and I would be completely mistaken were I to question Ross' technical skills – someone who has won seven or eight titles. Who am I in this respect?
"I have been in Formula One for only three years. So I completely agree with every word Lewis said.
"Ross has all the virtues that a great engineer must have: the preciseness, the focused and structured working mode, the calmness and and the leadership he exhibits with his technicians."
Info: PlanetF1.com, Image: Mercedes GP
Like us on Facebook and follow us on Twitter for all the updates of the Formula 1 2013 season.