Peter Sauber has denied reports employees of his struggling Swiss team are going without pay.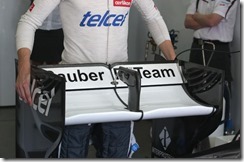 It is reported that, because he has not been paid his contractual instalments for May or June, Nico Hulkenberg has terminated his 2013 deal and is therefore free to switch to another team at any moment. "Basically, I won't talk about contracts," Sauber told Swiss television Sportpanorama. "But I am convinced that Nico will be with us in the second half of the season."
The Sonntagszeitung newspaper claims sponsor Oerlikon, and perhaps some other Sauber sponsors, has provided "emergency relief" to the tune of a mid-six figure to the Hinwil based team. "It is very difficult at the moment," team founder Peter Sauber admitted. "Our resources are very limited and the situation is uncomfortable and embarrassing," he added.
But Sauber, 69, vehemently denied that his staff are not being paid their wages. "In 20 years in formula one, we have never not paid wages on time," he insisted. However, Sauber admitted that some suppliers of the team are being asked to wait for their invoices to be paid. "It is affecting not only the development of the car, but also the suppliers," he said. "For the large part, we are being met with understanding, but it is very stressful for us and in many regards painful," said Sauber.
He said he has "never" laid off staff "for financial reasons", and does not intend to start now. "Once you start doing that, you hurt the team so much," said Sauber.
But Sauber said his team needs new sponsors urgently, or preferably an investor. "We are very confident in this regard," he revealed. "If it runs smoothly, we can give the all-clear by the end of the month."
He also said a 'plan B' is in place. "It is a good plan," said Sauber, "but time is the big problem — we're running out of it. "Mainly because we might not be able to drive if suppliers begin to stop supplying us." Asked if Sauber's 2013 season is assured, he admitted: "In principle, no. "But I feel safe. Currently we are working day to day." The last resort will be simply selling the team. "If there is no other way out," said Sauber, "that is a possibility. But we are far from that. "Closure is not an option. The fire inside me is kindled by situations like this. There is nothing else to do than fight."
Info: GMM, Image: Sauber F1 Team