It is with a lot of enthusiasm that the Sauber F1 Team will head to the European Grand Prix as the Sauber C31-Ferrari has proven to be a fast car on various different kinds of circuits.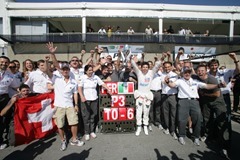 The eighth round of the 2012 FIA Formula One Championship will take place on the street circuit of Valencia from 22nd to 24th of June.
Sergio Pérez is acquiring a taste for podium finishes after he came second in Sepang and, recently, third in Montreal.
Meanwhile Kamui Kobayashi, who was constantly stuck in traffic in Canada, is keen to show what he can do in Spain.
Kamui Kobayashi: "In Valencia it is usually very hot. I personally like that, but it is difficult to say what it means for the car and the tyres. It will be tough, that much is certain. Tyre management will be the key, together with a good race strategy. The street circuit also requires a decent amount of downforce for the car. You are always quite close to the walls, but after our last two races in Monaco and Montreal this is nothing new. Overtaking is not easy but not impossible either. In 2010 it was actually good fun. Valencia as a city is a nice destination by many measure, I would happily choose it for my holidays. By the way, you can also get the best fresh squeezed orange juice there. However, my target is a strong qualifying as well as a strong race."
Sergio Pérez: "I enjoyed the Montreal result very much and I want more of that. I like the track in Valencia a lot and also the atmosphere during the race weekend, as we are quite close to the fans. I don't have the best memories of my Formula One debut race in Valencia, as it was last year and a very difficult one for me. I was returning to racing after my heavy shunt in Monaco and, in hindsight, I have to admit I don't think I was fit enough. I didn't feel well at all. The Valencia street circuit has quite long straights with hard braking into the corners, and what we have learnt from Montreal will be important for that."

Giampaolo Dall'Ara, Head of Track Engineering: "Valencia is a street circuit, but not a typical one, because the surface is very smooth, and the kerbs are not very high. In addition, the aerodynamic efficiency is significantly more important than, for example, in Monaco or Singapore, and there are proper run-off areas. Most of the corners are slow, but you cannot ignore the level of top speed. As a result of this layout, braking stability and traction are very important. In Valencia we have to expect high temperatures at this time of the year, so the tarmac can get very hot. Pirelli is supplying us with the medium and the soft compound tyres, which have changed a bit since last year and may need us to look at a slightly different strategy for them. Rear degradation could be an issue. Overtaking is not easy on this track, therefore qualifying is of particular importance. The car is basically unchanged since Montreal, however, we might run a higher level of downforce."
Info & Images: Sauber Formula 1 Team