The end of Sauber's financial struggles could depend on the new Russian connections paving the way to sponsor deals.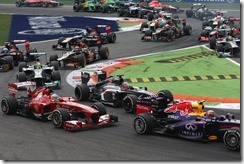 Ever since the so-called 'Russian rescue deal' was announced, suggestions the struggling Swiss team's financial woes are far from over have persisted. "I understand that people want to know more," team boss Monisha Kaltenborn told Blick newspaper, "because until now we have not said so much. "But I want to assure everyone that things go in the right direction."
She hinted, however, that Russian rubles have not been flowing overly quickly. "I hope that in this season, we will see new sponsor logos on the car," said Kaltenborn. "We also hope that something happens in terms of Sochi," she added, referring to next year's inaugural Russian grand prix. What is fairly certain is that, if the Russian teen Sergey Sirotkin is able to secure a super license, he will be racing a Sauber in 2014. But Blick reports that Sauber's current lead driver, the Ferrari and Lotus-linked Nico Hulkenberg, will definitely not be Sirotkin's teammate.
That news would seem to boost Esteban Gutierrez's chances, as he is strongly linked with Mexican team backers, including Telmex. "Actually one thing really does not have anything to do with the other," Kaltenborn insisted. In fact, she admitted that, "Ideally, we would want a more experienced teammate" for 18-year-old Sirotkin. "On the other hand we have been in this situation before and it worked well with two somewhat inexperienced pilots," added Kaltenborn. However, Sauber is close to renewing its engine deal with Ferrari for 2014, and the Italian team is looking for a middle-ranked team to place Jules Bianchi. And current Ferrari racer Felipe Massa is also on the market. Kaltenborn insisted: "Ferrari will have no influence on our driver choice. And there is no obligation for us to take a second Russian driver."
One thing is for sure — Sauber has no place available for its highly-rated 2013 reserve driver Robin Frijns, who has already departed the Swiss team. Kaltenborn admitted letting the Dutchman go was all about money — or his lack of it. "Unfortunately it shows what situation formula one is in at the moment," she said. "Despite his talent, his management hasn't been able to find more sponsors. And it makes no sense to hold on to a driver if you cannot give him what he wants."
Info:GMM, Image: Sauber