Sebastian Vettel now leads the championship after he took a  dominant victory at the 2012 Korean Grand Prix which saw him lead from the first corner to the last, 55 laps later.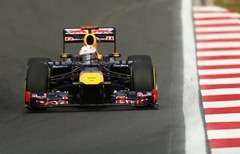 The Red Bull driver has now won three races in a row following his victories in Singapore and Japan, to give him a six point lead over Fernando Alonso, who finished third behind the second Red Bull driver Mark Webber.
The race was a battle of the tyres as severe degradation hit almost every driver. Sebastian Vettel was forced to coast in the final few laps after repeated warnings from his race engineer "Rocky".
Felipe Massa continued his strong return to form after finishing fourth, but had the pace to pass Alonso, but was kindly asked to back-off by Rob Smedley.
Kimi Raikkonen finished fifth and remains the only man who was able to complete every racing lap this season. Nico Hulkenberg and Romain Grosjean finished sixth and seventh respectively.
Toro Rosso managed a double points finish despite their starting positions of 17th and 21st.
For Lewis Hamilton this was weekend to forget as he endured a torrid time defending for much of the race before a piece of Astroturf  got on the sidepod of his McLaren forcing him to slow and back down from his fight with the Toro Rosso's.
His team-mate Jenson Button retired on the first lap after contact with Kamui Kobayashi at the third corner, which also saw Nico Rosberg retire.
Find us on Facebook and Twitter for all the latest updates for the F1 2012 season