In an interview taken on 26th March in Hinwil, Switzerland Sergio Pérez acknowledged the fact that there is still much work to be done and the team needs to remain realistic about its possibilities, here is the whole story: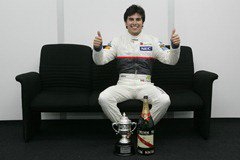 Sergio, has it sunk in that you have just had your first F1 podium finish?
Sergio Pérez: "I must say it is a bit difficult to accept it because in Formula One everything happens so quickly and, although I had to leave straight after the race, I'm still not at home in Mexico and have not really celebrated yet. I am just having a stopover in the US, at Dallas. For sure it was a great race and in a way a great feeling. But initially I was a bit disappointed because I thought maybe I could have won it, although nobody knows what in the end would have happened if I had managed to attack Fernando (Alonso) and whether I would have got by him or not. Meanwhile, of course, I realised that having come second is also a great result for us and is a perfect boost for the entire team, which is working very hard. I am happy for everybody in the Sauber F1 Team."
What do you expect to happen when you arrive in Guadalajara?
SP: I have no idea. Mexicans are completely out of control.
Even Felipe Calderón was among those who tweeted their congratulations. Have you been able to check all the congratulatory messages yet?
SP: "I have seen a lot of messages and it is absolutely great to receive so many of them, and especially so many from my home country. I feel a lot of support and I appreciate it very much. I regard it as a kind of reward for all I have done in my career so far, which hasn't always been easy. I'd like to thank everybody for all the kind messages!"
What will you be doing over the next days?
SP: "Of course I am looking forward to going home and seeing my family and friends. I will prepare myself for the next races as we have a long season ahead of us. I will get in touch with the engineers to talk and see what we can do next to improve, and I certainly will be training to be a hundred percent fit and ready to give my utmost at the forthcoming Grand Prix in China."
What is your next target?
SP: "The target is to keep improving our overall performance and the car. We have to push hard and, of course, we have to stay realistic. Although the pace in the race was good we should not forget that this result came after a very special race in extraordinary conditions. Ultimately I always wanted to win races and I strongly believe my first win in Formula One will come sooner or later – in an ideal world it will happen this year."
Info: Sauber F1 Team